Portable Restrooms for Every Event
| | 1hr | 2hrs | 3hrs | 4hrs | 5hrs | 6hrs | 7hrs | 8hrs | 9hrs | 10hrs |
| --- | --- | --- | --- | --- | --- | --- | --- | --- | --- | --- |
| 30 people | 1 | 1 | 1 | 1 | 2 | 2 | 2 | 2 | 3 | 3 |
| 60 people | 1 | 1 | 2 | 2 | 3 | 3 | 3 | 4 | 4 | 4 |
| 125 people | 2 | 2 | 2 | 3 | 4 | 4 | 4 | 5 | 5 | 5 |
| 250 people | 3 | 3 | 3 | 4 | 4 | 5 | 5 | 6 | 7 | 8 |
| 500 people | 4 | 5 | 6 | 6 | 7 | 7 | 9 | 9 | 10 | 12 |
| 1000 people | 6 | 8 | 8 | 8 | 9 | 9 | 11 | 12 | 13 | 13 |
| 2000 people | 6 | 9 | 9 | 12 | 14 | 16 | 18 | 20 | 23 | 25 |
| 3000 people | 7 | 9 | 12 | 16 | 20 | 24 | 26 | 30 | 34 | 38 |
| 4000 people | 9 | 13 | 16 | 22 | 25 | 30 | 35 | 40 | 45 | 50 |
| 5000 people | 12 | 15 | 20 | 25 | 31 | 38 | 44 | 50 | 56 | 63 |
| 10,000 people | 15 | 25 | 38 | 50 | 63 | 75 | 88 | 100 | 113 | 125 |
| 15,000 people | 20 | 38 | 56 | 75 | 94 | 113 | 131 | 150 | 169 | 188 |
| 20,000 people | 25 | 50 | 75 | 100 | 125 | 150 | 175 | 200 | 225 | 250 |
| 25,000 people | 38 | 69 | 99 | 130 | 160 | 191 | 221 | 252 | 282 | 313 |
| 30,000 people | 46 | 82 | 119 | 156 | 192 | 229 | 266 | 302 | 339 | 376 |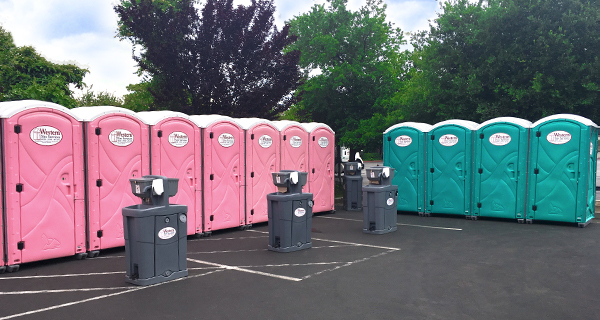 Standard Portable Toilets
ADA Compliant Toilets
Toilets with In-unit Sink
Dual-sided Portable Sinks
Temporary Fencing
Privacy Screen
Short-term and long-term event rentals are available. Reliable, on time delivery, service, and pick-up.
Family Reunions
Cookouts & BBQ's
Weddings
Receptions
Birthdays
Anniversary Parties
Special Events
Retirement Parties
Graduation Parties
Pool Parties
Carnivals
Winery Events
Concerts
Renaissance Fairs
Art & Wine Festivals
Street Fairs
Car Shows
Flea Markets
High School Sporting Events
Graduations
Summer Camps
Field Days
School Fairs
Boat Races & Sailing Events
College Level Sport Events
Intramural Sports Leagues
Soccer Tournaments
Baseball & Softball Tournaments
Training Facilities
Sports Camps
Cycling Events
Running Events
Obstacle Course Races
Extreme Sporting Events
Racetrack Events
Golf Tournaments
Auto Racing Events
Stadium Events
Motocross
Swim Events
Charity Sporting Events
Charity Walks & Cycling Events
Fundraising Concerts & Outdoor Activities
Or maybe you just seek a clean, quiet place to get away from family and friends. We can do that too! We won't judge.